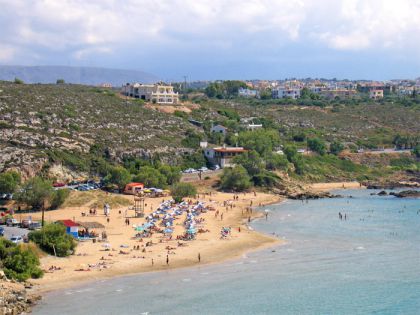 Chorafakia er en liten landsby i mellom landsbyene Kalathas og Tersanas, 12 km nordøst for Chania. Det er et ideelt sted hvis du ønsker å feriere med familie og  ha en avslappende ferie.
I Kalathas landsbyen er det en berømt og rolig sandstrand omgitt av furutrær med en flott holme i front. En restaurant og tn strandvolley felt er å finne på sandstranden. Tersanas stranden (1,5 km nordvest) er en annen fin sandstrand hvert å besøke for et par timer. Du kan også finne en kantine på den stranden.
En annen fin sandstrand kan bli funnet i Stavros (6 km nord) hvor, bortsett fra den myke sanden og det klare vannet, de besøkende kan finne en neolittisk grotte som ble brukt som et fristed på slutten av bronsealderen og gjennom alle de greske periodene.

Landsbyen ligger 20 minutter unna den internasjonale flyplassen i Chania og en halv time fra havnen i Souda. Det går hyppig (seks ganger per dag) transport med forbindelse til Chania sentrum. Noen ganger kan sandstranden kan være overfylt, men er et flott sted å besøke om for et par timer.
We would like to suggest you the next taverns and restaurants in the area of Akrotiri.
Sunset beach, a beachfront tavern on the sandy beach west of Stavros with Cretan food and French dishes served by Malika.
Sunset, a small tavern in Tersanas village with homemade Greek food by Mrs. Maria.
Almyriki, a new seafood restaurant near the centre of Stavros, in front of the sandy beach, with fish food and local dishes.
Mitsos, a small tavern in Kounoupidiana with Greek kitchen and grilled barbecue food.
Bahar, a lovely restaurant in Chorafakia with gourmet Mediterranean cuisine, pasta dishes, risotto and meat dishes.