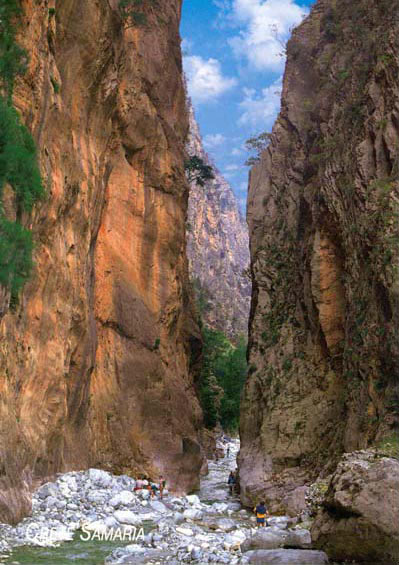 The Samaria Gorge (Greek: Φαράγγι Σαμαριάς or just Φάραγγας) is a National Park of Greece since 1962 on the island of Crete – a major tourist attraction of the island – and a World's Biosphere Reserve.
A must for visitors to Crete is to complete the walk down the gorge from the Omalos plateau to Agia Roumeli on the Libyan Sea, at which point tourists sail to the nearby village of Sougia or Hora Sfakion, where they could spend a night there, or they could catch a coach back to Chania. The walk takes five to seven hours and can be strenuous, especially at the peak of summer.
Samaria juvet ligger i nasjonalparken av Samaria, i De Hvite Fjellene i vest Kreta.
Samaria juvet er 16 km lang, og starter i en høyde på 1250m og tar deg hele veien ned til bredden av det libyske hav i Agia Roumeli. Turen igjennom nasjonalparken Samaria er 13 km lang - og du må gå de ekstra 3 km til Agia Roumeli. 
Juvet er åpent stort sett bare fra begynnelsen av mai til slutten av oktober. I vinterhalvåret gjør høy vannstanden i juvet farlige og ufremkommelig. Den er stengt på regnværsdager pga. fare for steinsprang).
Dette gjør at den offentlige transporten til inngangen av juvet og fra utgangen til Chania er en flott rute.