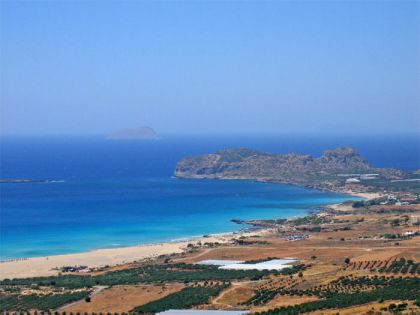 The Falassarna beach is regarded as one of the nicest, natural, sandy beaches in Crete and one of the ten best beaches in Greece. The downhill road leading to the Falassarna beach offers great views to the visitors.
It is a long, big, sandy beach with amazing views during the sunset; an ideal place to relax and unwind. The sea is always very clear and it tempts you go for swimming. There is space for water-sports and beach tennis; there is also a volley field.
There is a cafe at the start of the beach and umbrellas and loungers at different locations. In the village, the cafe Galasia Thea is an ideal place for coffee and home-cooked dishes and the taverna Sun Set is a nice taverna for fish and classic Cretan food.
The ruins of the ancient harbour-city of Falassarna can be explored during an excursion on the north of the beach. The excavations have exposed some of the walls and buildings of the city. There are no signs of the harbour now.