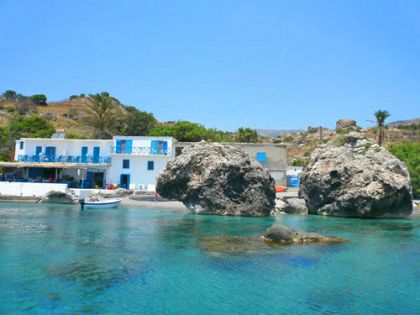 The coast of Agia Fotini offers some of the most wonderful sandy beaches of Crete with clean, clear waters in beautiful surroundings. The beaches along this stretch are ideal for swimming. At the village of Kerames you will find a lovely taverna on the small fishing harbour serving fresh local seafood.
The nearby beach of Prevelis is one of the best and welknown beaches in the whole of Crete. Both tourists and locals alike adore the sandy shallow waters. They are several wasy to get to Prevelis.
The first one is to drive to Prevelis Monastery and then walk for 10-15 minutes down some steps accross to the beach. The second way is to drive to Plakias and from there you can take a boat to Prevelis beach. The boat leaves Plakias at 10:30am and returns at 16:00pm. Prevelis beach has a stunning landscape that is characterised by the river, surrounded by palm trees, reaching the sea. It is a must to walk through the river. The river is dotted with small waterfalls and beautiful plants. The beach itself is organsied with sunbeds and umbrellas and some souvenir shops and snack bars.
Ligres beach is a beautiful and quiet beach about 45 minutes from Rethymno and 7 Km from Kerames village. It is very peaceful with stunning scenery and has several fish tavernas.
Triopetra beach is near Akoumia village about 40 mins from Rethymno. The name comes from the three rocks that rise from the sea at the end of the beach. Favoured by locals it does offer sunbeds and umbrellas as well as a selection of tavernas and a stunning sunset and is a great place for exploring. It is a sandy beach where small pebbles create fantastic colours