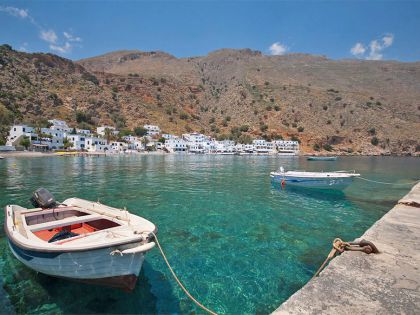 Loutro is a small, picturesque fishing village full of white-washed houses with Mediterrean blue shutters, traditional tavernas, cafes, bistros and markets that are built on a beautiful bay, encircled with pebble beaches and small jetties next to the aquamarine coast of the south west of Crete.
Loutro is located 71 km south of Chania and is reknowned for its immense natural beauty, serenity and tranquility, which is partly attributed to the amazing natural backdrop and partly to the fact that it is inaccessible by car and has no roads.
Ruins in the area date back to Roman and Venetian times. Once known as Katopolis (City Below in Greek), Loutro was the harbour for the inhabitants of Anopolis (City Above in Greek ). The enclosed bay and small island in its entrance create a natural harbor where ships can be safe no matter how dire the weather conditions. Loutro (with means A Place to Bathe) derived its present name from baths which were found in the area. Today it is a popular haven, accessed only by boat, or for the more adventurous, by foot, and once discovered you will want to return again and again.