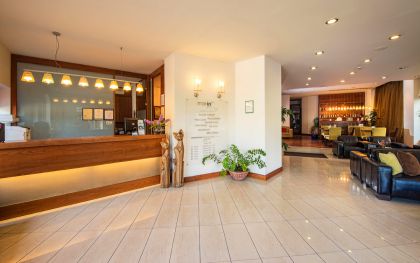 The Marin Dream Hotel offers a stunning Restaurant-Roof Garden, with panoramic views of the  harbour and fortress. A breakfast buffet is offered between 07.00-10.00. Guests can also choose to dine on traditional Greek and Cretan cuisine.

Marin Dream Hotel also has a very popular Cafe-Bar in the huge lobby, which offers coffees snacks and drinks. A large lounge, and seperate TV lounge are also provided, for ultimate relaxation.
The hotel provides 24-hour reception, postal service, room-service, laundry service, and information centre. Car and bike rental can be arranged on the premises, likewise, a doctor and pharmacy. Internet connection and business services are also available. The location of Marin Dream Hotel being in the centre of Heraklion, its outstanding services and and its long lasting expertise in hospitality makes it an ideal choice for a top holiday destination.