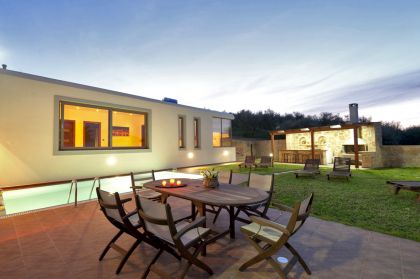 Modern Interior Villa offers a modern, spacious open plan living room with a dining area and a fully equipped kitchen, featuring a flat screen satelite TV (51 inches), and a DVD player.
The kitchen offers built-in appliances including a dishwasher, an electric oven, a microwave oven, and ceramic hobs. A coffee maker, a refrigerator and cooker hoods are offered as well.
An energy fireplace is provided as well as wireless internet, and a washing machine.
A private (heated if neccesary) swimming pool with sun loungers, an outdoor bar with fully equipped BBQ, a large courtyard with a lawn area, an outdoor pergola with sitting area, an enclosed childrens area and a private parking area are provided.
All our guests can get additional services on request, such as mani-pedi, hair-dressing, massage, 24h food delivery, car/motorbike/bike rental, boat excursions, mini-train excursions, transport from and to airport/port.
In the end, a laser-technology security system is provided, whereas huge bullet-proof glass doors and windows are used throughout the property, offering spectacular vistas to the sea.