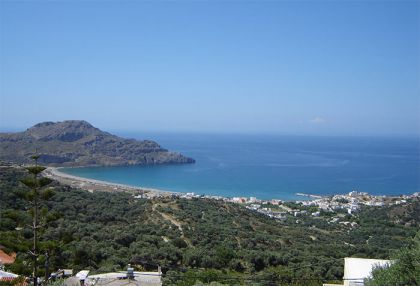 In the south coast of Crete only 32 km from the city of Rethymnon the town of Plakias is a unique place to visit and an excellent choice for a holidays experience that nobody can forget. Only within 30 minutes of an impressive drive throughout the mountains, hills and valleys of the mainland of the providence of Rethymnon, with the city of Rethymnon as a starting point, you end up in the quite fishing town of Plakias where the view of the endless sea and the sandy beach is really breathtaking.
Small taverns and restaurants, a few night clubs, cafeterias and traditional coffee shops who serve the traditional Greek coffee and the famous raki, offer a satisfactory variety of ways to spend relaxing time while your vacation.
Friendly people wondering around the small streets, fishermen and young children are some of those you will meet while you will enter the town and they will be more than happy to provide you with any kind of information you wish (most of the locals nowadays speak quite fluently English). In the town of Plakias the visitor can also find a supermarket, boutique, jewelry shop, a pharmacy, a Medical Center, Police Department and nearly everything is needed.
Plakias is only 32 km away from Rethymnon and 90km from Chania where is the nearest airport even though the city of Heraklion and the biggest airport of Crete is also 110 km away. The new national road Chania-Rethymnon-Heraklion lasting most of the ride is of great help for a safe and fast drive to the village of Plakias.