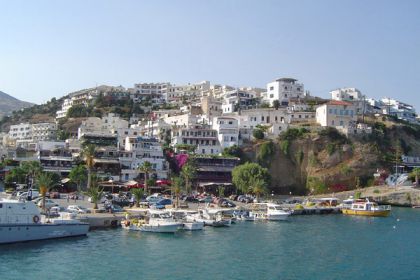 Agia Galini ligger på sydkysten af ​​Kreta mellem Rethymnon (56 km), Heraklion (80 km) og 120 km fra Chania. Det er en idyllisk og attraktiv fiskerlandsby med lille fiskerihavn, fuld af charme og varme.
På grund af sin centrale beliggenhed er Agia Galini den perfekte base for at udforske den sydlige del af Kreta og de mange attraktioner, herunder de nærliggende arkæologisk steder Gortyn og Palace of Phaistos og man kan tage forskellige bådture fra havnen.
Den smalle hvidkalkede landsby er bygget på bakkerne omkring havnen, og det giver den mest uforstyrrede udsigt over Det Liberiske Hav. Kernen i landsbyen er bygget op omkring tre gader, der løber ned til havnen. Her finder du alt hvad du skal bruge, et posthus, bageri, læge, bil og cykeludlejning, to hæveautomater flere butikker og en gade fyldt med tavernaer. Alt dette ligger inden for et meget lille område, hvor intet er mere end et par minutters gang væk. Du kan tage en svømmetur, nyde stranden der er tildel de blå flag, prøve vandsport eller gå en lang og rolig tur i bjergene. Stranden ved Agia Galini er lille, men i nærheden er der flere rolige strande, som let kan nås på dagsture. De lokale hævder, at Ikaros og Daedalus brugte Agia Galini som udlangspunkt for deres skæbnesvangre rejse.