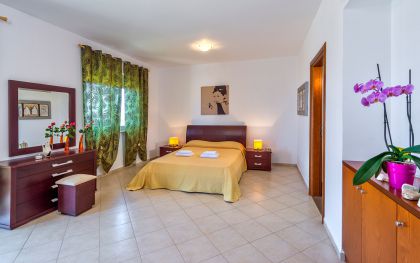 The 5-bedroom Villa Grigoris is divided in three levels. On the ground floor a nice open-plan living room with fireplace and satellite TV, a dinning area and a full-equipped kitchen with an electric kitchen, a refrigerator, coffee maker, toaster, as well as a dish washer are provided. 

The beautiful villa Grigoris also offers three bedrooms with a double bed, one of which includes an ensuite bathroom with bathtub, one bedroom with twin beds on the upper floor, and one bedroom with a folded bed and a sofa bed on the ground floor.
A common bathroom with bathtub is provided on the upper floor, while a common wc is available on the ground floor. Finally, cable internet is provided in every bedroom, while a washing machine is available on the basement.