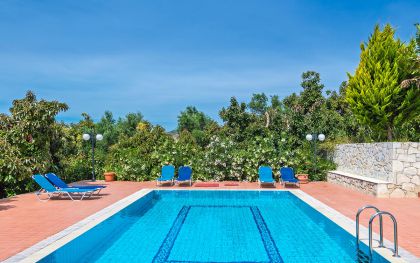 Villa Minas offers four spacious bedrooms (all upstairs with balconies with lovely panoramic coutryside views), and two luxury bathrooms (one with a shower on the ground floor, and another with a bathtub on the first floor). All the bedrooms are equipped with air-condition, a TV, and wardrobe.
A very spacious open plan living room area, a dining table and a fully-equipped kitchen are provided on the ground floor of the villa.
Villa Minas offers a private pool with sun loungers and umbrellas, and a private tennis court with tennis rackets and balls.