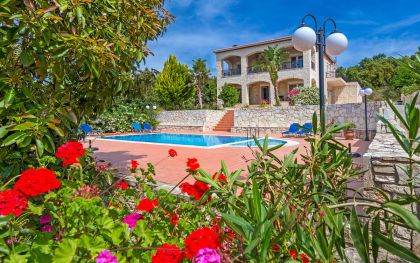 On the ground floor there are a spacious living room (with fireplace, fine sofa corner, 40 inch LCD satellite TV), dining table, and a fully-equipped kitchen in an open plan design. Big refrigerator and electric kitchen, dishwasher, boiler, toast makers, and coffee filter are offered.
Villa Minas offers a bathroom with shower and washing machine on the ground floor, four bedrooms (two with double beds), and another luxury bathroom with bathtub on the first floor. Every bedroom has a TV, two bedrooms one 32 inch TV each, and two bedrooms one 24 inch TV each. A playroom with a pool table and some fitness equipment is provided.
The guests can enjoy a dvd player in the living room area, and a big gas barbecue outside. A lovely private pool area and a private sandy tennis court! are offered in a lush landscape of a 5.000 sqm plot. Finally, free wireless internet access is provided everywhere.