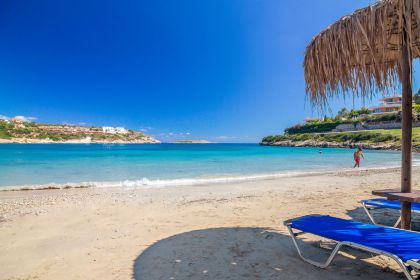 Loutraki is a small natural bay with crystal, clear, turqoise waters about 15 km northeast of Chania, a quiet cove with a lovely, sandy beach in the area of Akrotiri. A cafeteria, a lovely beach bar with grassy landscape, a fish restaurant, a traditional taverna and a beach canteen can be found.
All guests can also visit the beautiful Marathi bay with three amazing beaches, a few seafood restaurants (Patrelantonis is the most famous) and a beach-cafe, at about 2 km north from Loutraki.
While staying in Loutraki village you can visit some of the great Monasteries and churches of the area of Akrotiri, which is called by the locals "The Holly Mountain of Crete". The most important are the Agia Triada (Holy Trinity) Monastery, the Gouverneto (Lady of the Angels) and the Katholiko (Agios Ioannis the Hermit).
Loutraki is 15 minutes far from the international airport of Chania and 25 minutes from the port of Souda. It is an ideal place if you want to enjoy family and tranquil holidays.