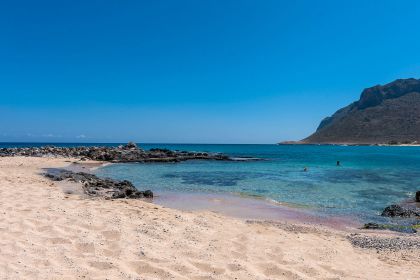 Stavros is a quiet, dispersed, seaside district located 17 km northeast of Chania on the road to Kounoupidiana-Horafakia, at the north tip of the Akrotiri Peninsula. It is an ideal place if you want to do really unwind and relaxing holidays.
The most wonderful element of the village is a marvellous, narrow strip of sandy beach dominated by a mammoth rock shelf which was served as background in the movie 'Zorba the Greek'. The beach is enclosed by the circular bay where you can enjoy the sea and sun.
The visitors can also find a Neolithic cave that was used as a sanctuary from the end of the Bronze Period and through all the Greek periods; its entrance can be just seen from the beach. There is another sandy beach on the west of the core; it is also used by the visitors for swimming.
The core of Stavros is built next to the big sandy beach and it is the right place to have dinner or coffee in one of the numerous restaurants, tavernas and cafes of the waterfront. Here you can also find mini-markers and snack bars.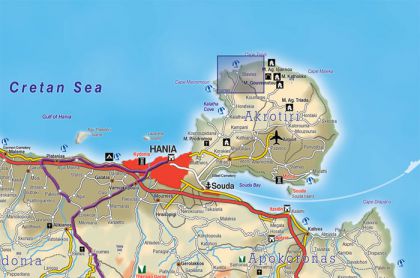 Next to Stavros there are many beaches where you can go for swimming. In the famous Kalathas sandy beach (6 km south) you can treat yourself with windsurfing rental and instruction lessons, waterskiing, watergames, canoes or scuba diving. There is a restaurant built on the sand and volleyball facilities on the beach. The Tersanas sandy beach (5 km southwest) is another alternative for swimming and relaxation, the Marathi beach (10 km southeast) is another sandy beach with beach bar and cafe.
While staying in the Stavros village you should visit some of the great Monasteries and churches of the Akrotiri Peninsula, "The Holly Mountain of Crete". The most important are the Gouverneto (Lady of the Angels) and the Katholiko (Agios Ioannis the Hermit).
The village is 25 minutes far from the international airport of Chania and 35 minutes from the port of Souda. There is frequent (six times per day) transportation connection with the Stavros village from the centre of Chania. Sometimes the sandy beach may be crowded but even like that it is a fine place to visit for a few hours.
We would like to suggest you the next taverns and restaurants in the area of Akrotiri.
Sunset beach, a beachfront tavern on the sandy beach west of Stavros with Cretan food and French dishes served by Malika.
Sunset, a small tavern in Tersanas village with homemade Greek food by Mrs. Maria.
Almyriki, a new seafood restaurant near the centre of Stavros, in front of the sandy beach, with fish food and local dishes.
Mitsos, a small tavern in Kounoupidiana with Greek kitchen and grilled barbecue food.
Bahar, a lovely restaurant in Chorafakia with gourmet Mediterranean cuisine, pasta dishes, risotto and meat dishes.