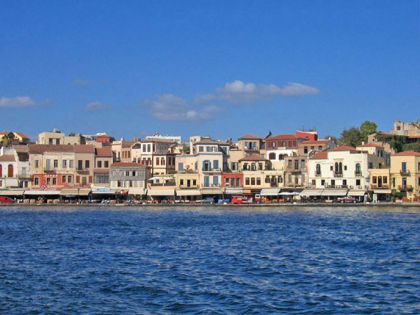 The visitors of Chania have many alternatives to relax and enjoy themselves. Chania is an always busy town during summer. There are both peaceful and busy villages near Chania.
The visitors can go for swimming in one of the endless lovely sandy beaches west and east of the city or they can visit the excellent remote beaches in the south of Chania. They can also enjoy in one of the plentiful beach bars, that can be found near the most famous north sandy beaches.
The guests should also visit the remote unique sandy beaches of Chania with green-blue chrystal waters, and white-pink sand. They are located west and south of the city. A car is always suggested to visit them.
The nightlife in Chania is quite interesting and all the visitors can choose from the small bars in the Chania old Town, the Koum Kapi and the seaside villages, and the big clubs in Agia Marina and Platanias villages. There are lovely restaurants and traditional tavernas in the old Town, the Koum Kapi and the Nea Chora.
During the summer there are two cinemas in Chania open to the public. Moreover, a few concerts take place in the open theatre in Koum Kapi and the stadium in the centre of the city, and a few more events in the castle of Firkas in Chania Old Town.