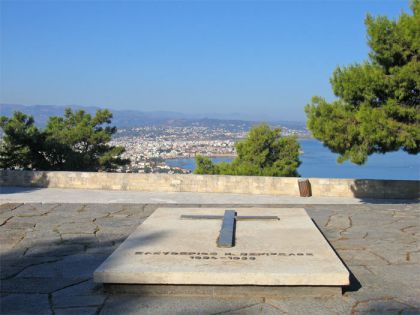 In the east suburbs of Chania, on the hill of Profiti Hlia (Prophet Elijah), there are buried Eleftherios Venizelos (one of the most significant politicians of modern Greece) and his son Sofoklis Venizelos.
The Venizelos' tombs are located in a peaceful park full of needle trees, with great views to the city of Chania. On the wall that surrounds the tombs the patriotic poet Kostis Palamas declares; "If any adornments befit the tomb/ place an upright pillar candle on top of it/ with a flame which, like Greece, cannot be extinguished".
Next to the tombs it is the 16th century church of Profitis Hlias; almost every weekend weddings take place here. It is a 10-minute drive to reach the Tombs from the centre of Chania.
Nearby the Venizelos' tombs there are three cafes with lovely views of Chania during the sunset and excellent sweets; the Ostria, the Nimfes and the Koukouvagia.