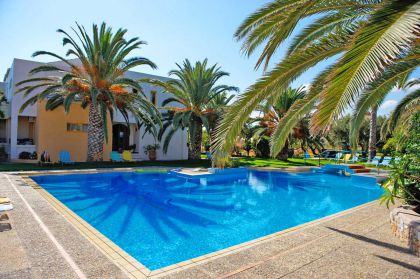 Lycasti Maisonettes is built among flourishing gardens with palm trees, beautiful flowers. bushes and grassy landscape, with gardens extending to 4 acres. A large swimming pool with a bridge, a pool bar and sun terrace are provided in the grassy courtyard.

The hospitality of the owners and the staff has created a warm environment, making this hotel the perfect destination for relaxation for couples and families.
The beautiful sandy beach where all sorts of water sports can be found is only 600 meters away as well as the lovely village of Tavronitis with many souvenir shops to keep the memories, many taverns with fresh fish, and of course a large variety of cafes and bars for you to choose.