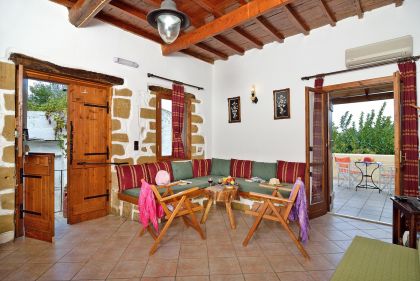 A traditional 1-bedroom villa with an open plan living room (with fireplace) and a fully-equipped kitchen is provided. Satellite TV, Dvd and Cd player, a microwave, a small kitchenette, a big refrigerator, and a mini dishwasher are offered.
A beautiful double bedroom with an en-suite bathroom (with washing machine) is offered. A spacious private balcony with an outdoor breakfast table and sun loungers, and a wooden pergola are also provided.
The 1-bedroom Villa can accommodate up to 2 adults and 2 children on one main sofa bed and one additional corner sofa.