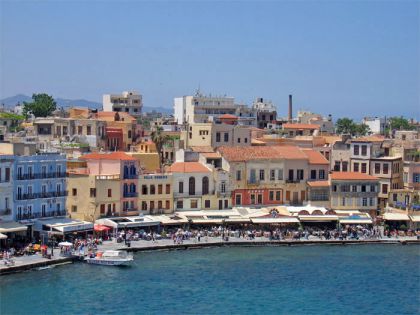 Chania «Old Town» wordt beschouwd als één van de meest pittoreske, oude steden van Griekenland en het is het prachtigste deel van de stad. De «Old Town» bestaat uit de oude Venetiaanse haven en de kleine Venetiaanse huizenblokken die achter de haven gelegen zijn; Het wordt gekarakteriseerd door smalle en schilderachtige steegjes – vergelijkbaar met een betoverend labyrint – levendig en met vele overgebleven Venetiaanse en Turkse gebouwen. De Vuurtoren, het fort Firka, de Kioutsouk Hasan Moskee, de Grote Arsenalen en de Neoria zijn bezienswaardigheden van de stad geworden.
De meeste gebouwen zijn vernieuwd en ze vormen samen een puzzel van hedendaagse, Venetiaanse en Turkse architectuur; ze zijn ook een «levende» tentoonstelling van de geschiedenis van de stad. Vandaag de dag doen ze dienst als winkels, tavernes, cafés en toeristische accommodaties.
Het meest beroemde gedeelte van de oude stad is de levendige waterkant langs de Venetiaanse haven die vol is met kleine hotels, cafés, restaurants, tavernes en bars. De vuurtoren aan het einde van de haven is een oriëntatiepunt in Chania.
Binnen de «Old Town» zijn er diverse wijken. De Daliani wijk was een plaats waar vroeger Turken woonden en de Dominicaanse kerk van St. Nicolas bestaat nog steeds. De wijk Kasteli was vroeger een adellijke wijk waar in het verleden vele herenhuizen gelegen waren. Aan het einde van de centrale weg is het «Sintrivani» plein gelegen, waar de heren bijeenkwamen voor koffie, een praatje over de politiek of een wandeling. Vandaag de dag wordt dit gebied beschouwd als de ingang van de oude stad en het is vol met cafeetjes, restaurants en barretjes. In die wijk ligt eveneens de Hasan Pasha moskee. De «Akti Kountourioti» is een plek met lokale winkels waar jong en oud bijeenkomt om zich te vermaken in de nabijgelegen bars en restaurants. Er is ook de wijk Topana, die zo genoemd is vanwege de kanonnen (topia) die de Turken hier hadden geplaatst.
Als u wilt eten in de oude stad Chania zou u de traditionele gerechten moeten proberen in het taverne Tamam (gerenoveerde Turkse Hamam), Ela, Pigadi tou Tourkou (een voormalig 19e eeuws stoombad) of het Carnagio taverne. Ook zou u een kop koffie moeten drinken in het Palace (voormalig Venetiaans herenhuis) en het café naast de vuurtoren. Voor een drankje is de Sinagogue (gerenoveerd Venetiaans gebouw) een uitstekende café-bar om te proberen.
Koum Kapi ligt eveneens op korte loopafstand (minder dan 10 minuten) van de oude stad Chania, dus u kunt er naar toe gaan voor een kop koffie, een drankje of een hapje. In de wijk Koum Kapi zijn er talrijke cafeetjes, restaurants en bars langs de voetgangerspromenade aan de waterkant.