Agia Marina is located 9 km west from the city of Chania and it is a very famous beach resort. It is built along the main seaside road which passes all the waterfront villages west of Chania and it is similar to the adjacent Platanias village.
Opposite of the Agia Marina is the islet of Agioi Theodoroi, which is nowadays a rearing place for the Cretan mountain goat Kri-Kri. From the village you can take great views on the islet and the Aegean.
In the watefront of Agia Marina there are some of the most famous touristic sandy beaches of Chania (Ammos and Ilios with visitors until 9 am!, Kosta Kosta, Cabana Mare) with beach bars, pool bars, sport choices (jet skiing, windsurfing, beach tennis, beach volley), food facilities and lovely views on the islet of Agioi Theodori.
Along the main road of Agia Marina you can find whatever you would like; shops, restaurants, cafes, supermarkets, banks with ATMs, clubs (Villa Mercedes) and drugstores. There are also private places for children to play, small private golf fields, elementary and high school. The surrounding area can be leisurely explored by getting a ride on the local mini-train.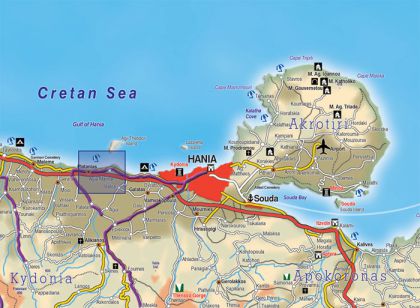 There are numerous restaurants and tavernas in the village of Agia Marina; you can try traditional food, seafood or the international cuisine. You can also try the nearby famous taverna Mylos tou Kerata in the PLatanias village for grilled chicken, lamb and beef fillets.
If you want to drink you can either try a bar in the watefront along the main road or go to the busy Platanias and visit some of the best bars (Splendid, Tropicano, Mylos) of the area. Agia Marina is also one of the main destinations for Greek clubbers since the great clubs De-Stihl (well-known in all the Greek population) and Island are located here; it is interesting to see there the way the locals entertain themselves.
There are frequent buses from Chania. The time-distance from the harbour of Souda and the international airport of Akrotiri is about half an hour. The village's good transportation network and its position (near the National road of Crete, close to Chania but also in the countryside) gives the visitor of Agia Marina the opportunity to travel fast and easily to most of the sights of the district of Chania.