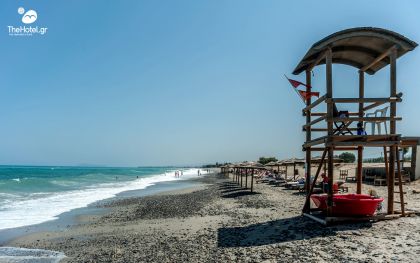 Kolymvari is a quiet, waterfront village 23 km west of Chania, on the base of the Rodopou Peninsula with a long, pebble beach; it is appealing if you look for a quiet, tranquil, holiday destination. Earlier Kolymvari was well-known as a rural village with olive-trees and vineyards, today it is a developing touristic village.
Kolymvari has several tavernas serving seafood and traditional food. You can try these special dishes in one of the fish tavernas in the centre of the town or in the tavernas in the lovely waterfront next to the long, pebble beach. There are few cafes and bars for a coffee or drink, however you should visit other nearby villages (Platanias, Agia Marina) or the Chania old town if you want more intense nightlife. In the village there is Post Office, OTE, and an ATM.
From Kolymvari it is very easy to visit the Gonia Monastery, which is located 1 km to the north and celebrates greatly on the 15th of August. It was built during the 17th century in a wonderful place, it is surrounded by verdant vegetation and it offers a magnificent view. The Monastery has a fortress form, overlooking the bay in front of it; it was also a centre of resistance during the revolution of 1821. The Gonia Monastery hosts today an important collection of precious post-Byzantine icons, relics, and other rare religious treasures. The Orthodox Academy of Crete is located next to the Gonia Monastery.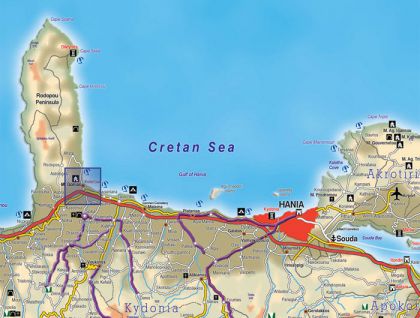 While staying in Kolymvari you can visit (by boat) the north-eastern edge of Rodopou peninsula where one can see the ruins of the ancient town Dyktinna, the Gramvousa island with the Gramvousa castle at the top, and the beach Balos (you can also go there on foot). Kolymbari is very near the Falasarna and Balos beaches which are regarded as two of the purest beaches of Crete and you should visit them both. The famous Elafonisi beach is also quite near; in 1 hour driving distance.
In Kolymvari you can come easily if you follow the New National Road for about 30 minutes from the Souda harbour or for 20 minutes from the Chania city. The distance from the international airport in Akrotiri is 39 km. A taxi to Kolymbari from the Chania Airport, costs approximately 30 Euros. There is frequent bus connection with the city of Chania.