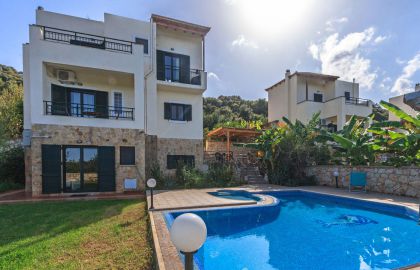 I hver af boligernes indgangsplan, med direkte indgang fra bagsiden af villaerne, er der i et åbent plan opholdsstue, spisestue og køkken, samt et fælles WC.
Et dobbelt og et enkeltseng soveværelse med pragtfuld udsigt findes i to af villaerned øverste plan. Villaen på midten af grunden tilbyder kun et soveværelse på øverste plan. Der er fælles badeværelser på de øverste plan.
I nederste plan - pool planet (med separat indgang fra poolen) tilbydes et andet åbent plan med opholdsstue, spisestue og køkken. De to største villaer har soveværelser på denne etage, mens den midterste villa et soveværelse som del af det åbne plan. Gæsterne finder thekøkken og bruserum i pool planet af hver villa. Der er air-condition i alle soveværelser.