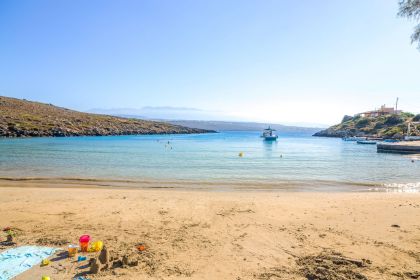 Tersanas is a small natural bay, 13 km northeast of Chania, a quiet village with a lovely, sandy beach in a small bay. It is an ideal place if you want to do unwind and relaxing holidays, next to the sea.
In the lovely beach of Tersanas there are provided sun loungers for sunbathing and umbrellas. The generally shallow waters help the children to swim, too. Sometimes during the weekends the sandy beach may be crowded, by the locals from Chania, but even like that it is a fine place to visit for a few hours.
Two more excellent, sandy beaches can be found in Kalathas (3 km south) and in Stavros (4 km north) with soft sand and clear waters.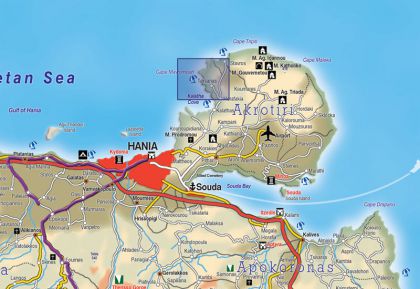 In Tersanas there are a few nice tavernas and cafes. Firstly, there is a lovely cafe on the edge of the beach, next to the sea. Another wonderful taverna (Sunset) with great views is built on the top of the hill. For the daily shopping it is reccommended the nearby hamlet of Chorafakia (1 km) where you can find a few shops and tavernas. In Chorafakia there is also a bus stop with frequent (six times per day) transportation connection with the centre of Chania.
While staying in the Tersanas village you should visit some of the great Monasteries and churches of the Akrotiri Peninsula, "The Holly Mountain of Crete". The most important are the Agia Triada (Holy Trinity) Monastery, the Gouverneto (Lady of the Angels) and the Katholiko (Agios Ioannis the Hermit).
Tersanas is 20 minutes far from the international airport of Chania and half an hour from the port of Souda.
We would like to suggest you the next taverns and restaurants in the area of Akrotiri.
Sunset beach, a beachfront tavern on the sandy beach west of Stavros with Cretan food and French dishes served by Malika.
Sunset, a small tavern in Tersanas village with homemade Greek food by Mrs. Maria.
Almyriki, a new seafood restaurant near the centre of Stavros, in front of the sandy beach, with fish food and local dishes.
Mitsos, a small tavern in Kounoupidiana with Greek kitchen and grilled barbecue food.
Bahar, a lovely restaurant in Chorafakia with gourmet Mediterranean cuisine, pasta dishes, risotto and meat dishes.