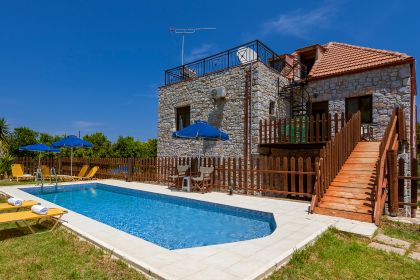 On the ground floor of the villa a spacious living room with fireplace and satellite TV, another lounge, a dining area, and the fully-equipped kitchen are provided in an open plan design. Two lovely stone arches create a romantic atmosphere in the villa.
Big refrigerator, electric kitchen, dishwasher, microwave oven, boiler, toast and coffee maker, washing machine and dry cleaning are provided. One of the four bedrooms (with bathroom) is offered on the ground floor as well.
The ground floor doors open to lovely terraces equipped with patio furniture and grassy landscape. A private pool with sunbeds and umbrellas is provided at the back of the villa. The guests can enjoy a barbeque lunch/dinner by the barbeque area and even take their own meals in the traditional stone oven that is provided.