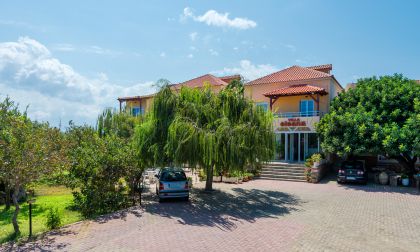 In the Eleana apartments spacious one bedroom, two bedroom and three bedroom apartments with open plan living room and kitchenette are provided.

Every apartment offers an open plan living room and a fully equiped kitchenette (with small electric oven with hot plates, small refrigerator, microwave and boiler), television, and a lovely balcony or veranda with sea views or garden views. Air-condition is also provided.
Please note that the 3-bedroom apartment offers 3 bedrooms, an open plan living room area with a fully equiped kitchen (2 refridgerators, and a  medium size electric kitchen, all utensils), and two bathrooms (with bathtub shower each).