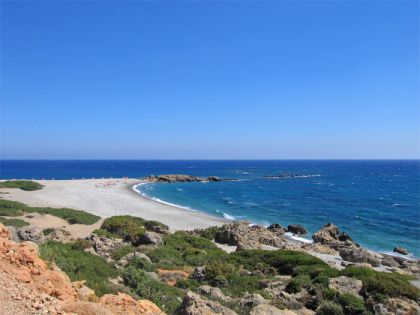 Palaiochora er den sydligste kystby i Chania regionen. Den ligger 76 km væk fra Chania og der bor omkring 1.500 personer. Den er blevet bygget på toppen af en lille halvø, under ruinerne af det venetianske slot, og det vaskes af bølgerne på tre sider.
For nogle årtier siden var Palaiochora den foretrukne hippie destination. I dag er det en foretrukken turistby, som bliver besøgt af mange lokale hver weekend. Der er fyldt med dejlige tavernaer, sandstrande og et storslået landskab!
Der er to smukke og maleriske bugter med fantastiske strande i byen. Den østlige sandstrand kaldes "Halikia". Den er 2 km lang og gerne tæt befolket og det er et fremragende sted for windsurfing. Stranden mod vest kaldes "Pahia Ammos", og det er en stenstrand. Når vinden blæser er grusstranden mere beskyttet. Begge strande er blevet belønnet med det Blå Flag.
Den mest maleriske del af byen er en labyrint af smalle gader omkring slottet, ligesom den gamle bydel i Chania. Der er to pengeautomater, et par banker, et apotek, internet cafe, en OTE, posthus, og vaskeri i byen. Der er også den udendørs biograf Attikon. Der er mange restauranter, tavernaer, caféer og barer i havnefront området af landsbyen. Den vestlige havnefront er meget livligere om natten, da her er placeret flere spisesteder. De bedste valg er følgende, den Dionysos Taverna, det tredje øje, Caravella, Oriental Bay, Portofino, Calypso og Grammeno Taverna i Koundoura.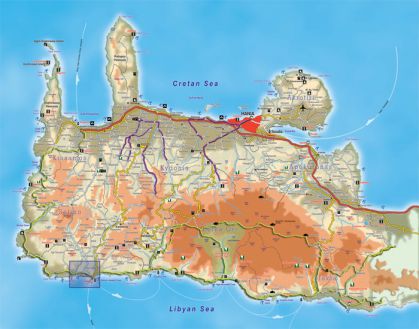 Natten igennem kan du underholde dig i Nostos Night Club, La Jettee og Skala. Den årlige Palaiochora musikfestival fra 1. til 10 august er vært for koncerter, udstillinger og sang konkurrencer.
I Palaiochora, kan den besøgende vælge mellem en bred vifte af dagens aktiviteter og vandsport, såsom windsurfing, dykning, lystfiskeri, kanosejlads. Det er også værd at besøge den lille landsby Anydri og dens lille kløft, der fører ned til den dejlige strand "Yianniskari" og dens krystalklare vand, landsbyen Azogires og de byzantinske kirker og kapeller i området. The Church of Agios Georgios i Anydri landsbyen viser det 14. århundredes freskomalerier af den lokale mester, Pagomenos. Desuden er der fra Palaiochora en seks-timers gåtur langs kysten, dels af E4 europæiske Footpath, der fører til Sougia. Turen går gennem det gamle Lissos.
Landsbyen er et ideelt udgangspunkt for ture til andre nærliggende kyst destinationer. Der er daglig lille færge til Sfakia, Sougia, Agia Roumeli og Loutro, der afgår fra Paleochora 9:45 og vender tilbage fra Sfakia 01:00. Tre gange om ugen afgår både fra Paleochora 8:30 til Gavdos og retur 15:00. Hver dag er der fem busser til Chania og en tidlig en (afgang kl 06:00) til Samariakløften.