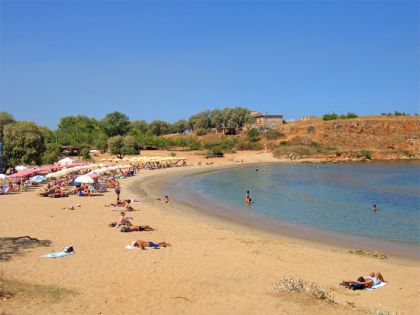 The Agioi Apostoloi village is located 4 km west of Chania; it is a waterfront village with three great sandy beaches, named by a small church called Agioi Apostoloi on the top of the peninsula. The three lovely beaches are formed by the play of the sea with the land; they have clear and shallow waters perfect for swimming and safe for children. There are also sport facilities and a well-known beach bar, the Inguana. One of the beaches of the Agioi Apostoloi is called the Golden Beach (chrissi akti) due to the incredible colour of the sand.
The Agioi Apostoloi village and the Golden Beach waterfront are well developed; here you can find many shops, restaurants, cafes and bars as well as a small park used mainly for jogging and picnic.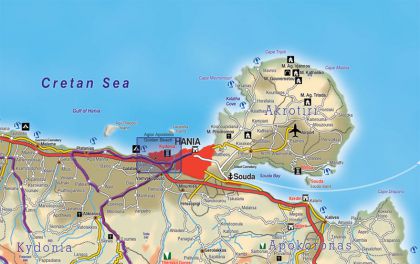 The waterfront of the Agioi Apostoloi (the park included) is under preservation by the authorities, therefore there is still some green space next to the sea. Moreover, the Chania Old Town is in a very short distance with plenty choices of food, entertainment, and shopping.
It is easy to get to the village by the frequent buses which depart from the Central Municipal Market. Many inhabitants of Chania visit the sandy beaches during the weekends because they are close to the city, they have sport facilities and in the end they are quite warm even from the first weeks of the summer.