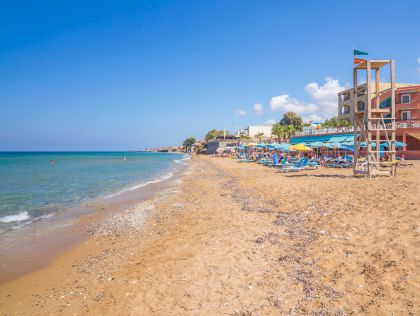 Sfakaki is a seaside, small, linear village located 9 km east of the town of Rethymno.
There is a long sandy beach (with a few pebbles) for sun-bathing, swimming and summer sports. During the day the guests can enjoy many recreation alternatives including restaurants, cafes and small bars.
If you stay in Sfakaki or in one of the nearby villages, you can visit the historic Monastery of Arkadi. It is one of the most striking examples of the Cretan Renaissance, but also due to its intense role in the liberation struggles of Cretan against Turkss. The Monastery was firstly built by the Venetians and it is dated back to the 16th century.
We recommend Sfakaki for its sandy beach and the lovely sea, as well as its nearness to the National road, making it easy to travel almost anywhere in Crete, especially in the prefecture of Rethymno.