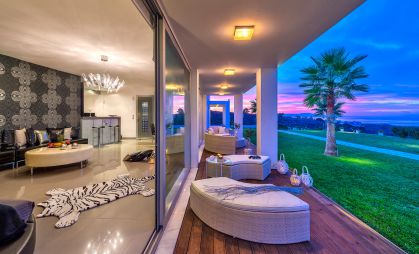 For the truly informed jet set that requires the absolute best in Crete, this is the superlative, spectacular and magnificent "Black Pearl Suite" of Ktima Reveli.
Combining minimal and modern style, subsequently played in shades of black and white while the Italian furniture specially from Milan, highlights the luxurious touches. The Black Suite can accommodate up to 4 people and offers a bedroom with a sitting area, a comfortable and fully equipped kitchen bar, designed in one piece. A bathroom with shower, and a washing machine are also available.
Accommodation for 2 adults and 2 children, sized 100 m², 4000 m² outdoor, outdoor pool of 75 sqm, outdoor jacuzzi 10 sqm, high speed wifi.