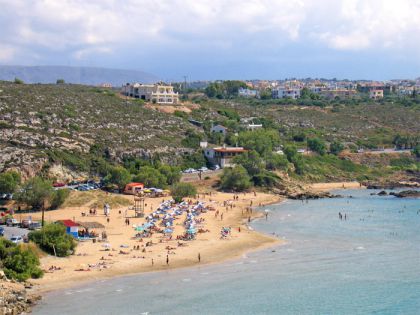 Kalathas is a seaside, quiet village with a sandy beach lined by pine trees and a lovely islet in front of it, about 10 km north-east of the town of Chania, in the area of Akrotiri. All guests can enjoy two small beach restaurants on the sandy beach and a few watersports like canoe and water bicycling.
Kalathas is situated 15 minutes far from the international airport of Chania and half an hour from the port of Souda. There is frequent (six times per day) transportation connection with the centre of Chania.
Sometimes the sandy beach may be crowded but even like that it is a very beautiful and relaxing place to visit for a few hours.
Chorafakia village is located 1 km from Kalathas. It is a small village in the middle of the distance between Kalathas and Tersanas, offering a taverna and two mini-markets. People staying in Kalathas can also find two mini-markets on the upper/south part of the village.
A few more very beautiful sandy beaches can be found in the nearby villages of Akrotiri (in Stavros 6 km north and in Tersanas 2 km away) with soft sand and crystal clear waters.
Kounoupidiana town, with one supermarket, banks, many shops, and a bakery shop is only a 5-minute drive from Kalathas.
We would like to suggest you the next taverns and restaurants in the area of Akrotiri.
Sunset beach, a beachfront tavern on the sandy beach west of Stavros with Cretan food and French dishes served by Malika.
Sunset, a small tavern in Tersanas village with homemade Greek food by Mrs. Maria.
Almyriki, a new seafood restaurant near the centre of Stavros, in front of the sandy beach, with fish food and local dishes.
Mitsos, a small tavern in Kounoupidiana with Greek kitchen and grilled barbecue food.
Bahar, a lovely restaurant in Chorafakia with gourmet Mediterranean cuisine, pasta dishes, risotto and meat dishes.