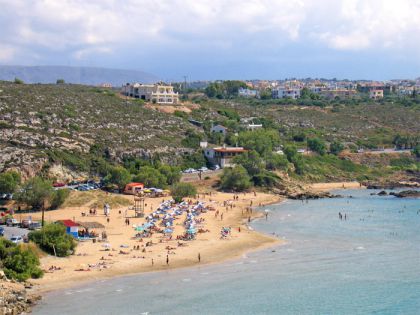 Chorafakia is een klein dorpje dat in het midden tussen de dorpjes Kalathas en Tersanas ligt, 12 km ten noordoosten van Chania. Het is een ideale plaats voor een ontspannen gezinsvakantie.
In het dorpje Kalathas ligt een bekend rustig zandstrand omzoomd door pijnbomen met ertegenover een mooi eilandje. Een restaurant en een beachvolleybalveld liggen op het zandstrand. Terasanas strand (1,5 km noordwestelijk) is een ander fijn zandstrand om voor enkele uren te bezoeken. Men vindt een kantine op dat strand.
Een ander fijn zandstrand vindt men in Stavros (6 km noordelijk) waar bezoekers, behalve het zachte zand en het heldere water, ook een Neolitische grot kunnen vinden die gebruikt werd als heiligdom aan het einde van de Bronstijd en in alle Griekse tijdperken.
Het dorpje ligt op 20 minuten rijden van de internationale luchthaven van Chania en een half uur vanaf de haven van Souda. Er is een regelmatige busverbinding (zes keer per dag) met het centrum van Chania. Soms kan het zandstrand druk zijn, maar zelfs dan is het een fijne plek om voor een paar uurtjes te bezoeken.
We would like to suggest you the next taverns and restaurants in the area of Akrotiri.
Sunset beach, a beachfront tavern on the sandy beach west of Stavros with Cretan food and French dishes served by Malika.
Sunset, a small tavern in Tersanas village with homemade Greek food by Mrs. Maria.
Almyriki, a new seafood restaurant near the centre of Stavros, in front of the sandy beach, with fish food and local dishes.
Mitsos, a small tavern in Kounoupidiana with Greek kitchen and grilled barbecue food.
Bahar, a lovely restaurant in Chorafakia with gourmet Mediterranean cuisine, pasta dishes, risotto and meat dishes.