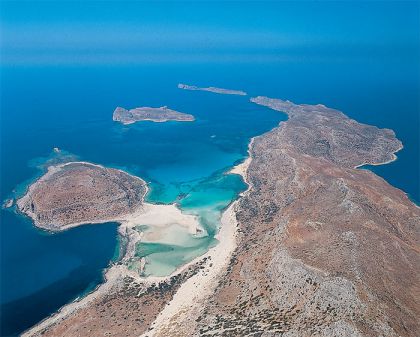 Crete was formed by the movements of the earth's tectonic plates. Simply put, many milions of years ago a huge area of ocean opened up between the Eurasian and African plates. Crete, with most of Greece, was intermittently submerged under the sea. Tha land mass finally rose again as the two plates moved toward each other, producing the Hellenic Island Arc, of which Crete is part.

The shifting of tectonic plates has created faults and gorges and caused the elevation, subsidence and collapse of land. Further tectonic up thrust, earthquakes, weather and erosion have all continued to shape the structure of the island as we see it today.


The mountains dominate the landscape with four massifs, each formed with a limestone core; the White Mountains of the west, Psiloritis in central Crete and the Dikti and Thripti Mountains of the east. Psiloritis peaks at 2456m, with the highest summit of the White Moutains a close second at 2452 m. The Dikti and Thripti mountains reach heights of 2148m and 1476m respectively. These high ranges are linked by smaller mountains and hills, valleys and plains.
Crete has a number of mountain plateaux, the most well known being the high, fertile plain of Lassithi situated at over 850m. There are over 100 gorges on the island, many of them concentrated in the province of Sfakia, including Samaria, at 18km the longest gorge in Europe. Some of the shorter gorges are no less spectacular. It is said that there are over 3000 caves and caverns, many of which are unexplored, while others have been used as sanctuaries in the past, or had sacred gignificance.
More than 50% of Crete is mountainous and the terrain defines the island. Relatively small distance can take hours to transverse. A journey from west to east, a distance of 260km, will take as mush as 6 hours, even with the benefit of a modern, major highway. The terrain has also played a significant part in the islands history overmany centuries of invasion and occupation. Cretan's have used the landscape to clever advantage, exploiting their knowledge of caves, gorges and the high mountains, to the full.
Read Also: