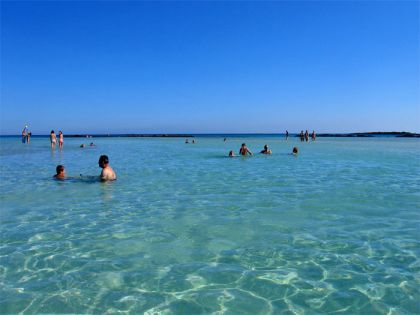 Elafonisi ligt op een afstand van ongeveer 80 km van de stad Chania. Elafonisi wordt een uitstekend zandstrand genoemd met een blauwgroene zee en een kleurrijk zandstrand. Er ligt een klein eilandje tegenover het strand met dezelfde naam.
Het is een vredige plaats vol kleuren en licht. U kunt er te voet naar toe gaan, omdat de afstand vanaf het vasteland minder dan 100 m is. Het witte zand, de zandheuvels en de verschillende kleuren zullen uw inspanningen compenseren. Er is ook een klein cafetaria op het strand met fastfood en softdrinks.
Het uitgestrekte district van Elafonisi is van bijzonder ecologisch belang en wordt bestempeld als "NATURA" gebied. Men vindt hier een aantal bedreigde diersoorten. Momenteel draaien er twee programma's van "LIFE".
Route : Chania - Kolymbari - Topolia - Elos - Chrissoskalitissa - Elafonisi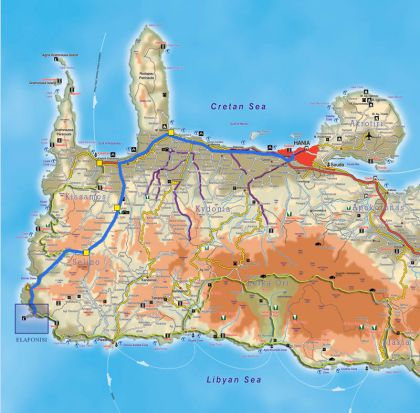 Our destination is one of the purest and the most natural beaches of Crete, Elafonisi, with blue and green waters and colourful sand. The visitors can either follow the New National road until Kastelli (then they have to turn) or make a stop in the seaside village of Kolymbari.
We start with a visit to Kolymbari (23 km west of Chania) and the Gonia Monastery which is located one kilometre to the north. After that, we enter again the New National Road, and move to the west. We cross the plain of Kissamos to reach the seaside town of Kastelli. It is located 42 km far from Chania (about 20 km from Kolymbari), a lovely small town with a long beach and a few cafes and tavernas.
We can either stop in Kastelli for a coffee or turn towards Elafonisi at the crossroads 4 km before the village of Kastelli.  We pass through the green, countryside villages of Topolia and Elos (with lovely tavernas) to reach and visit the Chrissoskalitissa monastery. A few km southeast of the Monastery there is the wonderful Elafonisi beach resort.