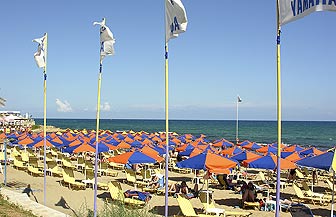 Stalida (or Stalis) is on the north east coast of Crete between Malia and Hersonissos. It is a laid-back popular beach resort, thats friendly. It makes an ideal for resort for families and couples alike. Hospitality is the main feature of the locals who will welcome you and make you feel at home.
The beaches in Stalida are sandy, and the waters are shallow and crystal clear. Both stretch to Malia and beyond offering a variety of water-sports.
Stalida differs from neighbouring Hersonissos and Malia in that it does not share their wild nightlife, but it does have small, welcoming bars and pubs, traditional restaurants, cafes and beach bars and the odd club, so you can have fun at a quieter pace. There is plenty to do during the day with its wealth of shops including leather, fashion and jewellers. It is well postioned if you want to explore Crete. It is a 5 minute drive away from the larger cosmopolitan town of Hersonissos.  Elounda and Agios Nikolaos are just a 35 minute drive away. For those looking for quiet days but a more hectic nightlife then Stalis is ideal as it is in walking distance of the party resort of Malia.