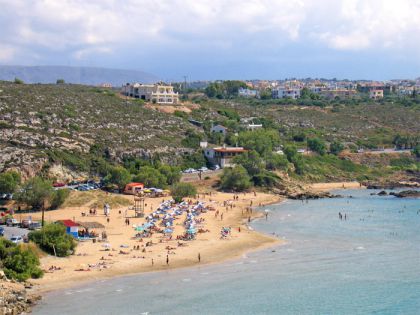 Chorafakia är en liten by som ligger mitt imellan Kalathas och Tersanas by, 12 km nordost från Chania. Det är en mycket idealisk plats om du vill ha en bra familjesemester och bara varva ner.
I Kalathas by finns en berömd, tyst, sandstrand kantad av pinjeträd och en härlig liten ö i fronten. En restaurang och en beachvolley plan ligger på stranden. Tersanas strand (1,5 km nordväst) är en annan fin sandstrand att besöka för några timmar. Du kan hitta ett matställe på den stranden.
En annan fin sandstrand finns i Stavros (6 km norr), förutom den mjuka sanden och det klara vattnet kan besökaren hitta en neolitisk grotta som användes som en fristad från slutet av brons-tiden och genom alla Grekiska perioder.
Byn ligger 20 minuter från den internationella flygplatsen i Chania och en halv timme från hamnen Souda. Det är frekvent (sex gånger per dag) transport förbindelse med centrala Chania. Ibland kan sandstranden vara trångt men även då är den ett fint ställe att besöka för ett par timmar.
We would like to suggest you the next taverns and restaurants in the area of Akrotiri.
Sunset beach, a beachfront tavern on the sandy beach west of Stavros with Cretan food and French dishes served by Malika.
Sunset, a small tavern in Tersanas village with homemade Greek food by Mrs. Maria.
Almyriki, a new seafood restaurant near the centre of Stavros, in front of the sandy beach, with fish food and local dishes.
Mitsos, a small tavern in Kounoupidiana with Greek kitchen and grilled barbecue food.
Bahar, a lovely restaurant in Chorafakia with gourmet Mediterranean cuisine, pasta dishes, risotto and meat dishes.