Agia Marina er beliggende 9 km vest for Chania by, og det er en af de mest berømte strandstrækninger udbygget på vandsiden af kystvejen der går gennem alle kystbyerne vest for Chania byen er meget lig den tilstødende Platanias.På den anden side af Agia Marina ligger øen Agioi Theodoroi, som nu er et opdrætssted for den kretensiske bjergged Kri-Kri. Fra byen er der en god udsigt til øen og Ægæerhavet.
På kyststrækningen i Agia Marina findes nogle af de bedst kendte turiststrande omkring Chania (Ammos and Ilios åbent indtl 21:000! Kosta Kosta, Okeanos) med strandbarer, poolbarer, sportsmuligheder (jet-skiing, windsurfing, strand tennis, strand volley), spisesteder og en fantastisk udsigt til øen Agioi Theodori.
Langs hovedvejen i Agia Marina kan du finde alt hvad du ønsker som; butikker, tavernaer, caféer, supermarkeder, banker med hæveautomater og apoteker. Der er også private legepladser for børn, en lile privat golfbane, folkeskole og gymnasium. Hele området kan mageligt udforskes med en tur i det lokale minitog.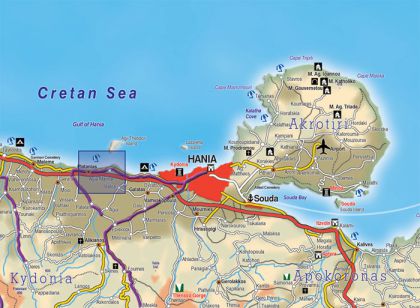 Der er et utal af restauranter og tavernaer i byen Agia Marina. Her kan du smage de traditionelle retter, fiskeretter og internationalt køkken. Du kan også prøve den berømte 'Mylos tor Karate' restaurant i Platanias by og få grillet kylling, lam og oksefillet.
Hvis du ønsker en drink, kan du enten prøve en af de barer der ligger på vandsiden langs hovedvejen, eller du kan tage til det livlige Platanias og besøge nogle af de beste barer i området Splendid, Tropicano, Mylos). Agia Marina er også blevet stedet for græske klubber, efter den store klub De-Stihl (velkendt i alle græske magasiner) og Island er placeret her, hvor det også er spændende at se hvordan de lokale morer sig og går i byen.
Der er regelmæssig busforbindelse til og fra Chania. Der tager kun en halv times til at komme til/fra havnen i Souda eller den internationale lufthavn Akrotiri i bil. Byens gode infrastruktur og placering (tæt ved motorvejen, tæt ved Chania, men samtidig i landlige omgivelser, giver Agia MArinas gæster god mulighed for hurtig og let transport to at se det meste af Chania distriktet.