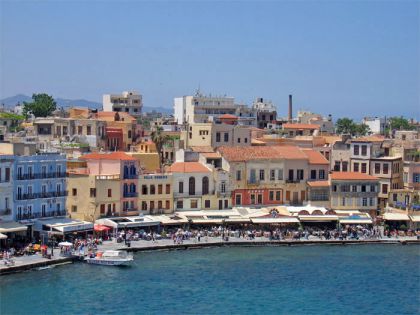 Chania Old Town is regarded as one of the most picturesque, old towns of Greece and it is the most wonderful part of the city. The "Old Town" consists of the old Venetian harbour and the small Venetian blocks located behind the harbour; it is characterized by narrow and picturesque alleys - similar to an enchanting labyrinth - full of life, and the plentiful remaining Venetian and Turkish buildings. The Lighthouse, the Fortress of Firka, the Mosque of Kioutsouk Hasan, the Great Arsenali and the Neoria have become landmarks of the city.
Most of the buildings are rejuvenated and they compose a puzzle of contemporary, Venetian and Turkish architecture; they are also a 'living' exhibition of the city's history. Today they work as shops, tavernas, cafes and touristic accommodations.
The most famous part of the Old Town is the lively round waterfront along the Venetian harbour, which is full of small hotels, cafes, restaurants, tavernas and bars. The Lighthouse at the end of the harbour is a landmark of Chania.
Inside the "Old town" there are various districts. The Daliani district was a place where Turks used to live and the Dominican church of Saint Nicolas still remains. The Kasteli district used to be a noble district, where many mansions were located in the past. At the end of its central road, the "Sintrivani" square is located, where the gentlemen were gathered for coffee, walking or political conversation. Today this area is regarded as the entrance to the old town and it is full of cafes, restaurants and small bars. In that district it is also located the mosque of Hasan pasha. The "Akti Kountourioti" is a place with local shops, where many young and older people gathered for entertainment in the bars and restaurants nearby. There is also the Topana district which is named that way because of the cannons (topia) that the Turks had placed there.
If you want to eat in the Chania Old Town you should try traditional food in the Tamam (renovated Turkish Hamam), the Ela, the Pigadi tou Tourkou (former 19th century steam bath) or the Karnagio taverna. You should also have coffee in the Palace (previous Venetian Mansion House) and the cafe next to the Lighthouse. For an early drink the Sinagogue (renovated Venetian building) is an excellent cafe-bar to try.
Koum Kapi is also in a short walking distance (less than 10 minutes) from the Chania Old Town so you can go there for a coffee, drink or food. In the Koum Kapi district there are numerous cafes, restaurants and bars in the waterfront, along the main pedestrian street.