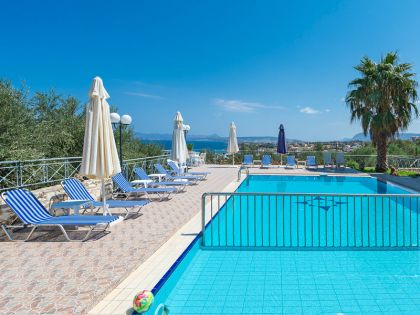 Cactus apartments offer lovely views to the village, and the sandy beach of Stalos. The city of Chania is slightly clear at the background. The blue of the sky is combined with the blue of the sea and the green of the fields in colourful mosaics of colour.
Eachapartmenthastwobedrooms, one bedroom with a double bed and one bedroom with twosingle beds. A fully equippedkitchen,satelliteTV, air conditioning, wireless internet andprivateparking are also provided.
The apartments are also a nice example of architecture. They have detailed facades (smart shapes on the verandas), use of traditional elements such as the stone (on the facade and the design elements in the courtyard) and the water (the pool), and interesting form.