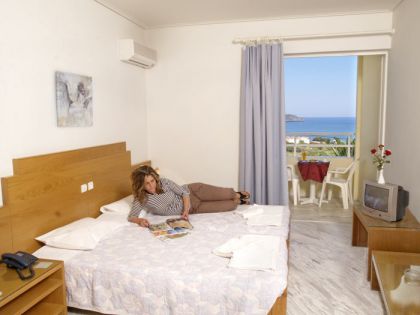 The Eleftheria Hotel offers 66 rooms, studios and 1-bedroom apartments spread in three buildings, all of which are equiped with private bathroom, telephone, TV, music, A/C and balcony. Kitchenettes are offered in the studios and the 1-bedroom apartments. Lovely sea, garden or pool views are also provided.
Eleftheria Hotel offers breakfast and dinning room, a lounge equipped with satellite TV, swimming pool as well as separate children pool, pool bar, playground, gym, sauna and parking area.
Every room or studio can accommodate 2-3 guests, while every 1-bedroom apartment up to 4 guests. The apartments have a door between the bedroom and the rest apartment. The children can sleep either on normal beds or on range beds.