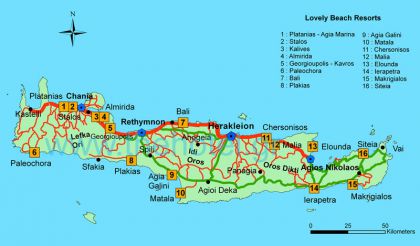 1) Platanias - Agia Marina
The adjacent villages of Agia Marina and Platanias are the most famous ones in the Chania district since they have the liveliest sandy beaches, some of the best tavernas, restaurants, cafes, bars and clubs, which attract locals and tourists every day, and a very short distance from the city of Chania (8-9 kms). The two villages are located one after the other and they have such similar characteristics so that they can be regarded as one beach resort.
2) Stalos
Stalos is the village before Agia Marina (7 Kms west of Chania) with a nice, long, sandy beach and many shops, restaurants, cafes and famous bars along the waterfront and the main road that crosses the village. It is a little quieter than Agia Marina-Platanias and a little nearer to the city of Chania as well.
3) Kalives
It is located 17 km east of Chania and it has similar characteristics to Almirida; it is a generally quiet seaside village with very interesting waterfront, full of tavernas, cafes and restaurants, a sandy long beach and a lively shopping center.
4) Almirida
Almirida is generally a quiet seaside village, 19 km east of Chania, with long sandy beaches and a very interesting-lively waterfront full of tavernas, cafes and restaurants.
5) Georgioupolis - Kavros
Georgioupolis is a quiet resort, located 20 km west of Rethymnon, at the mouth of a river. The center of the village dominates a busy square (full of tavernas, acafes and small shops) shaded by plane trees. There is a lovely long sandy beach in the waterfront. Kavros has a lined centre with shops, cafes and restaurants and it is located 4 km from Gerogioupolis. Great hotels (with private sandy beach) are built in the waterfront.
6) Paleochora
It is a quite lively touristic village with a crowded sandy beach on the west side and a less crowded pebble beach on the east side of the village. There are many restaurants, tavernas, shops and bars in the village.
7) Bali
It is a very picturesque village, built around coves on the north coast, with nice sandy beaches, restaurants and cafes on the waterfront. It is located 8 km east of Rethymnon and 51 km west of Herakleion.
8) Plakias
It is one of the island's quieter beach resorts. Its main characteristic is a huge sweep of clean grey sand.
9) Agia Galini
It is the most touristy southern beach resort, a previous picturesque fishing village. The centre of the village is very lively; full of shops, tavernas, restaurants, cafes and bars. The pebbly beach with a small river flowing into the sea is very picturesque.
10) Matala
It is located 11 km south-west of Phaestos. During the 1960's the place was a magnet for chippies due to its coves of golden sand and the Roman cave-tombs on the cliffs surrounding them. Today it is a generally quiet beach resort.
11) Chersonisos
It is a beach resort with similar characteristics to Malia, located east of the city of Herakleion, next to Malia beach resort; restaurants, bars, clubs and shops in a long strip of land.
12) Malia
Malia is one of the liveliest package holiday resorts of the island, located near the international airport of Herakleion; young crows are concentrated here every July and August attracted by its great sandy beach, the very interesting nightlife, and the water sports.
13) Elounda

It is a very famous cluster of luxury hotel complexes in the coves along the coast. There is pleasant sandy beach and attractive waterfront with restaurants, bars and cafes.
14) Ierapetra
It is a quiet beach town with good nightlife, which still keeps its cretan, traditional character. The beach in the town, as well the surrounding ones, is very pleasant and the waterfront is very attractive, full of tavernas, reastaurants and cafes.
15) Makrigialos
Here there is possibly the best and longest beach in eastern Crete, scarred by tourist shops, tavernas and guesthouses.
16) Siteia
It is an attractive small seaside-town with a pretty harbour-side promenade lined with tavernas and cafes. The beach stretches for kilometres east of the town.