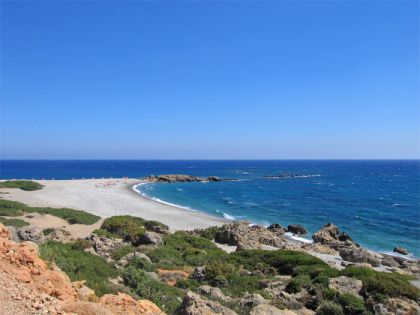 Palaiochora is the southernmost seaside town in the Prefecture of Chania, located 76 km far from Chania, with about 1,500 people. It has been built on the top of a small peninsula, below the ruins of the Venetian Castle, and it is washed by the waves on three sides.
Some decades before Palaiochora was a hippies destination; nowadays it is a preferable touristic village which is visited by many locals every weekend. Lovely tavernas, sandy beaches and great landscape are offered!
There are two beautiful and picturesque bays with fantastic beaches in the village. The Eastern sandy beach is called "Halikia", it is 2 km long and quite crowded and it is an excellent place for windsurfing. The beach to the West is called "Pahia Ammos" and it is a pebble beach. When the wind blows the pebble beach is much more protected. Both beaches have been awarded with a Blue Flag.
The most picturesque part of the town is the maze of narrow streets around the Castle, like the old Town of Chania. There are two ATMs, a few banks, a drugstore, internet cafe, an OTE, Post Office, and laundry in the village. There is also the outdoor cinema Attikon. There are many restaurants, tavernas, cafes and bars in the waterfront area of the village, however the western waterfront is far livelier at night since here are located more places to eat or drink. The best choises are the followings; the Dionysos Taverna, the Third Eye, Caravella, Oriental Bay, Portofino, Calypso and the Grammeno Taverna in Koundoura.
During the night you can entertain in the Nostos Night Club, La Jettee and Skala. The annual Palaiochora music festival from 1st to 10th of August hosts concerts, exhibitions and song contests.
In Palaiochora, the visitor can choose between a variety of day activities and watersports, such as windsurfing, scuba diving, fishing, canoeing. It also worth visiting the tiny village of Anydri and its little gorge which leads down to the wonderful beach of "Yianniskari" and its crystal-clear waters, the village of Azogires and the Byzantine churches and chapels of the area. The Church of Agios Georgios in the Anydri village exhibits 14th century frescoes by the local master, Pagomenos. Moreover, from Palaiochora a six-hour coastal walk, partly by the E4 European Footpath, leads to Sougia. The walk passes through the ancient site of Lissos.
The village is an ideal base for trips to other nearby seaside destinations. There is daily small ferry to Sfakia, Sougia, Agia Roumeli and Loutro, leaving Paleochora at 9:45am and returning from Sfakia at 1pm. Three times per week boats depart from Paleochora at 8.30am to Gavdos and return at 3pm. Every day there are five buses to Chania and an early one (departure at 6am) to the Samaria Gorge.