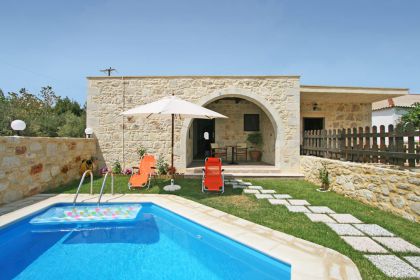 Every villa is built traditionally with the use of local materials and design. An open plan living room (with TV) and kitchen with an arch between them is offered. Big refrigerator, big electric kitchen, and boiler are provided.
In the courtyard of every villa the guests can enjoy a private pool, sun loungers and sun umbrellas. A tall stonebuilt wall exists between the villas. Finally, every villa offers a twin and another double bedroom.
Air-condition is provided in every bedroom of the villa. A washing machine is also available in every villa.