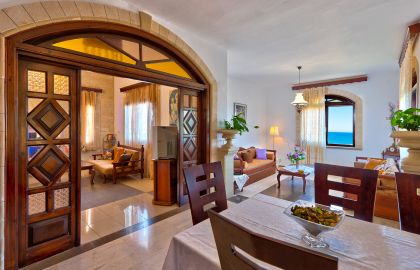 The interior architecture of the Thodorou Sunset Villa is unique.

On the ground floor the fully-equiped kitchen-bar (full size cooker, dish washer, microwave oven, big refrigerator) with the graven caves on the wall and the wonderful archs, the wooden dining room, the living room with the glyphic above the fireplace and satellite TV, and the comfortable lounge are really great.
There is also a big bathroom with jacuzzi and hydro massage on the ground floor, air-condition and two more bathrooms with the two bedrooms on the upper floor.
The property includes a good sized swimming pool and although some of the most famous beaches on the island are so close, relaxing by the pool amid the smell of roses and jasmine can be very tempting. In the end it is offered clothing wash machine.
The Thodorou Sunset Villa has also a private barbecue under a nice pergola and big veranda with magnificent views on the islet of Agioi Theodoroi and the seashore.