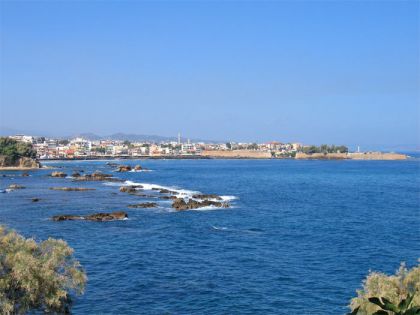 Koum Kapi is one of the most touristic promenades in the town of Chania, which attracts thousands of visitors during the summer months; people come here to relax, eat and entertain.
Along the waterfront there are built a few cafes, bars and tavernas with wonderful views to the sea and a part of the Venetian Walls. The locals usually prefer this part of the waterfront to have a coffee in the evening or a first drink during the night.
The history of Koum-Kapi starts during the last years of the Turkish occupation when the Arabs grew "Halikoutes", a small village, near a sandy beach and next to the Venetian fortifications. This district was called in Turkish "Kum Kapisi" (meaning Gate of the Sand) because of the Venetian Gate built there.
If you want to have a coffee in the Koum Kapi waterfront you can try the following cafe-bars; Beneto Moro at the start, Para Pente at the centre, Il Nostro at the end, and the rock-cafe Other Side near the end. There are also many choices for food like the first two restaurants at the start of the waterfront (O Aswtos Yios, Diachroniko).
The area of Koum-Kapi is quite near the old Venetian Town so that you can walk to get from the one place to the other. While walking, if you follow the seafront, you will meet more seafood restaurants (try the Dinos Restaurant) and cafes (try the Dio Lux).