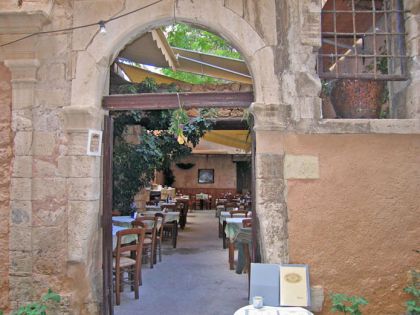 In Chania and the district of Chania the guests can find excellent traditional tavernas and restaurants. They are located in the Chania town (in the Venetian Old Town, the Koum Kapi and the Nea Chora), the waterfront and the traditional villages. Below are some tavernas and restaurants which we believe worth trying. Of course there are still so many which we do not know.
Tavernas and Restaurants in the town of Chania
Tamam (Old Town, 49 Zambeliou str., specials vegetables, 2821058639)
This restaurant is housed in old Turkish baths, in a very atmospheric place. Here you can try many Cretan dishes; a superb selection of vegetarian specialities such as the spicy avocado dip on potato, inspired dishes such as a divine pastrami, feta and tomato concoction and the excellent Beyendi chicken.
Chrisostomos is a traditional tavern with authentic Cretan cuisine. It is located at the east end of Chania old harbour (Defkaliana & Ikarou, tel: +30 2821057035).
Oinopoiio with Cretan cuisine in a warm restored building on the paved street 46 Chatzimichali Daliani, Splantzia area (tel: +30 2821059204).
Mesogiako restaurant is located on the lovely street of Daliani, in the area of Splanzia, a restaurant with Mediterranean cuisine (16 Michali Daliani street, tel: +30 2821057992).
Vineria 36 is a "warm" wine bar/restaurant with lovely wines and authentic culinary delights behind the old harbour of Chania (36 Kalinikou Sarpaki str., tel: +30 2821057590).
Pigadi tou Tourkou (Well of the Turk, Chania Old Town, 1-3 Sarpaki str., near the Splantzia square, 2821054547) 
It is a former 19th century steam bath, with a well from which it is named after (well means pigadi in Greeks). The British owner of this restaurant offers dishes inspired by Crete, Marocco and the Middle East, including specialities such as aubergine (eggplant) meatballs with yogurt.
Kariatis Italian restaurant in Chania old harbour (12 Katechaki square, tel: +30 2821055600), which is an elegant, romantic restaurant with Italian and Mediterranean cuisine along with many choices of wine.
Monastiri Taverna (Old Town, Akti Tombazi, greek mezedes)
One of the few waterfront restaurants it dishes up fish and excellent Cretan fare.
Ela (Old Town, 47 Kondylaki str., specials, 2821074128)
Here there are served Cretan specialities and local musicians create a lively ambience on summer evenings. The building is dating from the 14th century and over the centuries it has been a soap factory, a school, distillery and cheese-processing plant.
Ta Chalkina is a seafront restaurant on the main promenade of the old town with Live Music! during almost every night and traditional food.
Seafood restaurants in the area of Chania
Glossitses is a lovely seafood restaurant in the east part of Chania old town, at 4 Akti Enoseos street (tel: +30 2821059074)
Thalassino Ageri in the area of Tabakaria in Halepa, 2 km from Chania centre. It is a seafront seafood restaurant, quite difficult to find, with romantic atmosphere (tel: +30 2821051136, +30 6947939146).
Michalis ouzo restaurant at the centre of Chania harbour with nice sea views. (33 Sourmeli Str., Akti Tobazi, tel: +30 2821058330).
Apostolis Taverna (Old Town, 6 Akti Enoseos str., 2821043470)
It is located in the quieter eastern part of the Venetian harbour and it serves fish and Cretan dishes. There is also a good wine list and a view over the harbour.
Akrogiali (Nea Chora, 20 Akti Papanikoli str., 2821071110)
Many locals regard Akrogiali as one of the best seafood restaurants in the city. The fish is always fresh and the accompaniments are fine. There is also a great view of the sunset in the evening.
Almyriki is a beachfront seafood restaurant next to the center of the village of Stavros in Akrotiri, in front of the sandy beach, with fish food and local dishes.
The seafood, sea front, tranquil restaurant Kuma in the village of Maleme, about 15 km west of Chania.
Tavernas and restaurants in the villages of Chania
Maria's Restaurant (Stalos, Cretan and Sea food, 2821068888)
It is served Cretan and Mediterranean food on a plant-filled terrace. The restaurant is located on the eastern edge of Agia Marina.
Myrovigli (Ano Stalos, Cretan food and grills)
It is served traditional Cretan food on a lovely taverna with great balcony with great views. The taverna is located near the square of Ano Stalos, 1.9 km south of the Stalos village (on the hills behind).
Don Rosario Italian restaurant in the area of Platani, about 7 km east of Chania, near the exit of Souda. Many types of pasta and special seafood dishes are offered in a tranquil environment (tel: +30 2821023663).
Gramboussa tavern in the small village of Kaliviani, about 5 km west of Kissamos and 50 km west of Chania, near the unique beaches of Balos and Falassarna. A traditional tavern with special dishes (tel: +30 2822022707).
Mitsos grill in the town of Kounoupidiana, 5 km northeast of Chania.
Drakiana (Drakiana, Cretan specials, 2821061677)
It is placed under the plane trees platania on the ruined village of Drakiana on the banks of the river. It is located 3 kms north of the village of Platania. Here it is served excellent traditional cuisine with special meat dishes like suckling pig on the spit. It can be reached by the dirt road running inland past Mylos tou Kerata. 
Villa Mercedes (Agia Marina, special dishes and drinks)
This is possibly the most famous multi entertainment space in Chania. It is mainly used as a club after midnight but it is also a coffee-bar and luxury restaurant until midnight. Regarding the restaurant, the dishes and the drinks are very special, so that the prices are quite high.
Villa Mercedes is built on the edge of the sea, with palm-trees and sofas in its courtyard, offering great views on the Sea and the island of Agii Theodorou.
Mylos tou Kerata (Platanias, grilled fillets, 28210685778) 
It is regarded as one of the best restaurants in the area of Platania and Agia Marina. It is located in an old water mill. The atmosphere is nice, the menu and wine list extensive with a huge range of grilled chicken, lamb and beef fillets. There is a small stream with ducks in the courtyard.
Diktinna Taverna (Kolymbari, fish taverna, 2824022611)
This fish taverna is located on the main street and it has a wide range of good fish dishes and nice sea views.
Kellari Taverna (Kastelli Kissamou, Cretan Specials, 2822023883)
It is right on the beach and it has an extensive range of home-cooked Cretan dishes and fresh fish.
To Akrogiali (Kastelli Kissamou, seafood, 2822031410)
It is a fish restaurant with excellent fresh seafood, served on a terrace with the waves almost lapping your table legs. It is located east of a seafront soap factory-but don't let the location to put you off.
Portofino (Paleochora, pasta and pizzas, 2823041114)
It is a beachside restaurant on the port side with pasta dishes, pizzas and crepes. It is located on the pebble beach.
Calypso (Paleochora, pasta specials and vegetarian dishes, alternative cuisine themes, 2823083019)
There is a lot of quality here with daily soup, salad, and pasta specials, and vegetarian dishes. Sometimes there are organised international cuisine themes with Indian, Mexican and other ethnic cuisines.
Grammeno Taverna (Koundoura, Paleochora,  traditional Cretan Food, 2823041505)
The taverna is located three km west towards Koundoura, another small seaside area. It is offered excellent Cretan traditional food.